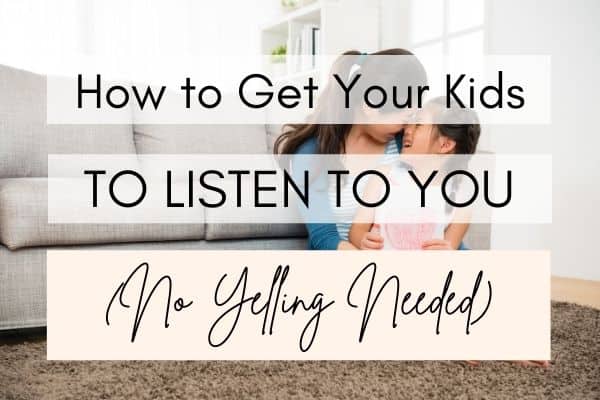 Aside from my children fighting with one another , there's nothing that has challenged my parenting skills more than how to get my kids to listen. 
When I was pregnant with my first child and daydreaming about life as a parent, I would always picture myself doing things like rocking my child to sleep in a rocking chair and picking them up from kindergarten. 
What I didn't imagine were the power struggles I'd have, or the hard time I'd have trying to get my kids to listen and follow directions. 
How to get a child to listen and follow directions is a challenge all parents face and need a proper strategy for. However, the good news is that you can make simple changes to help your kids listen better (that work for younger kids and older kids). 
But before I share some simple tips to see a difference in your kids' listening skills, let's look at some important components to getting our kids to listen that we often don't think about:
Listening needs to be taught
If you want to raise good listeners, you first have to understand that listening in and of itself is a skill, and it needs to be developed. 
This is not something I came into motherhood knowing-I had to learn this from positive parenting trainings. I just assumed my kids would listen when I talked because, well, that's what they were supposed to do right? (silly, I know) 
Our kids have a free will, so listening isn't something that can just happen at our command.
It's also important to note that good listening skills don't come through force (things like yelling, spanking, etc-trust me, I've tried). In fact, these things may even work against your efforts to get your kids to listen, because again, at the end of the day, our kids have free wills and they will not truly learn through force!
Cultivating good listening skills is something even we mamas could do better. Which brings up another point…
How are you demonstrating listening to your kids?
For every virtue and good habit we want our kids to cultivate, they need a good example from us-listening included. 
Have you noticed that it's pretty common for us mamas to want or expect things from our kids that we ourselves aren't doing? Better listening for our kids starts with better listening from us! 
Take note of how you listen to your children. Do you interrupt them when they're talking? Do you look them in the eye and give them your full attention? These are all important things to consider as we look to help our kids be better listeners as well.
How are you interpreting their motive for not listening?
Another thing that's important to consider is how you're interpreting their motive for not listening to you. 
It may be that you've never expected them to listen, and you've not taken the time to help them develop the listening skills they need. 
It may also be likely that they're asserting their power in a negative way. If you find yourself constantly nagging them, scolding them, or correcting them, they will tend to tune you out (I promise you on this one!).
I encourage you to give your kids plenty of positive attention and positive connection-connect with them often. Pay attention to when they exhibit good behavior, and not just when they're messing up!
Do you mean not hearing, or not obeying?
There is a difference between your child paying attention to what you're saying and them actually obeying you.
Sometimes, when parents say their kids don't listen, they mean that their kids don't pay any attention to them. However, other times they're talking about their child's behavior-that their children listen but don't actually obey. 
I've dealt with my fair share of this, and there's more that goes into your child obeying you than you may think. Check out this post I wrote on how to train your kids to obey the first time.
No that that we've looked at some changes we can make in ourselves as moms, here are some simple changes to make to see a big difference in your kids the next time you're trying to get your kids to listen. Take one or take them all!
This post may contain affiliate links. If you make a purchase through one of these links, I may get paid a small commission.
Don't overcorrect
Overcorrecting has been the number one hindrance to listening in our home, and yet simply not overcorrecting or being bossy is a simple way to get my kids to listen better.
As a mama overcoming the tendency to control, I've been guilty of barking out orders and controlling my kids all day, every day. 
I've learned that everything I say to my child cannot be a threat or correction (wouldn't we all tune that out?). Kids need plenty of positive attention, and plenty of conversation with us that has nothing to do with us telling them what to do.
Use a pleasant tone
Even if you get angry with your kids, it's important to stay calm and use a pleasant tone. 
Our kids know immediately when we're angry, and because we're already bigger than them and hold the position of authority, it can make them feel scared and want to put up a wall.
If you feel tempted to yell or be rough, take a deep breath. You don't have to force yourself not to be angry, but you do want to make sure you maintain as pleasant a tone as possible to help your child listen.
Say what you see 
When your child is frustrated about something or one sibling has a qualm with another one, it's important not to jump in and start assuming motives.
Instead, say what you see. 
In a situation like either of these, you're probably going to need to give your child some direction. For them to listen, you'll want to basically just make an observation, such as "I see you're upset about something" or "I see that your paper is torn."
For a more thorough explanation on how to do this well, check out the Say What You See book. 
Get your child's attention
Sometimes, your kids are engulfed in what they're doing, and we need to ask them to stop and make eye contact with us.
It's also important to be aware that too much tv and video games can hamper their ability to pay attention. If you feel that this could be your child's issue, you may need to take steps to cut down how much time they spend in fron tof the tube.
Ask your child to repeat what you said
After you've gotten their attention, you want to make sure they heard and understood you by asking them to repeat what you've asked/told them to do.
Point them to what they should be doing
Years ago, I was praying about my kids and some of the issues I was having with them.
The Lord spoke to my heart that I needed to point them to the good they should be doing (v. the negative that they were doing already).
Years later, when I came across the positive parenting training, I realized that it was a strategy they used that really worked to help kids listen. 
Giving the kids a bunch of "don't" commands isn't only overwhelming and not empowering, it's a formula for your kids to disobey you. On the flip side, pointing them to what they should do provides plenty of clarity as to what they should be doing.
Make them feel capable of listening
A child listens better when she believes she can.
Don't make the same mistake I have-of saying things in the heat of the moment like "you never listen" or "you're not listening again". Again, not empowering, and who really wants to listen to that?
Don't repeat yourself
I've made this mistake more times than I care to admit. 
When I repeat myself over and over, what I'm teaching my child is that inevitably, I will repeat myself, so they don't need to listen to me right away.
If you want your kids to listen to you the first time, sounding like a broken record is definitely not the way to go. To get them to always pay attention to your initial requests, train yourself to avoid giving repeated instructions.
Use less words
Nobody wants to be preached to, and often, we say with too many words what we can say with just a few. 
Also, if your children already know what they're supposed to do and they haven't done it, using a single word is usually enough to remind them of what they're supposed to be doing ("bed", "dishes", "teeth", etc).
I hope these tips make a big difference for you, and that there's a lot more listening and connection all around in your homes!
Related Parenting Posts:
Connect: The #1 Thing a Mom Can Do
Two Ways to Win Your Kids' Hearts