I think we can all agree that spending time developing strong relationships with our children is a top priority. We have every intention of spending time bonding with them and making memories that will last a lifetime.
BUT I also know that quality time can either go one of two ways: you can overdo it (and not have productive days) or you can under do it (and never spend time with them). I used to vacillate between the two of these because I didn't really have any clear direction. Because of this, my days were highly unorganized and not very fruitful and I was always frustrated. Do ya feel me? If so, I suggest you check out this post about how to make a schedule that works for you. It will help you shape your days for the better. I promise 🙂
So back to quality time. I have learned two things about this over the years: one, that it needs to happen, and two, that I need to schedule it in to make sure it happens. Why? Because the effects of making heart connections with my children are amazing. I can sense my heart being tenderized toward them and I believe it has the same effect on their hearts. They have more of an assurance that I truly care about them because I have spent time just having fun with them.
I intentionally stick in about 30 minutes (at least) for quality time. You don't have to spend hours with them if you don't have hours, but a little bit everyday goes a long way in developing influence in their lives.
So. Now that we've discussed all of that, here are 15 ways to squeeze some quality time into your day. Enjoy!
Reading and discussion snuggle time
This is one of my favorite things to do with my kids. I tell them to each go and choose a certain number of books and then we all sit on the couch under a blanket and I read to them. I have found that it really helps enhance their reading comprehension skills as well. Don't forget to animate the story-your kids will absolutely love it!
Listen to a book on tape together
Your local library should have a whole section of books on tape (or CD), or maybe you happen to have some. Let your kids choose a couple (appropriate) books and then pop them into a CD player/laptop/desk top computer. It's also a great activity to do if your kiddos need to wind down and transition into nap time or bedtime.
Have a picnic at the park
This is my two oldest daughters' fav. We live right across the street from a park, so it's almost like going into our backyard and having a picnic.
If you don't have a park anywhere close to you, maybe you could just go outside somewhere, or even to the mall and take your lunch. You can take it up another notch and make and pack the lunch together!
Do a craft together
I take it back…this is my daughters' favorite. My girls love crafts. I mean, LOVE them. I'm not particularly a crafty person myself, so I just search Pinterest for something that's easy and that I already have stuff for.
This is one of those quality time activities where you can really teach your kids some great skills. Being careful and creative, for example. And thinking outside the box. Which is probably why I need to do more crafts with my girls…
Play with (or make) play doh
I will admit that while I've never actually made play doh with my kids, I've wanted to. There are a zillion recipes for it online, so if you try it, let me know which one worked best for you!
We have a small selection of play doh tools that we use. I love keeping them handy because even my toddler can play. We just sit her in her high chair and then mold away!
Watch a movie they pick
Just like it sounds. To encourage sibling cooperation, I tell the girls that they must agree on ONE movie before we can watch it. It's amazing how they will work together at this!
Imaginary play
I have found that playing with your kids with their toys is an excellent way to teach them proper relational skills. You can teach them to ask for things instead of grab them and how to properly handle anger. You can also teach them to be responsible and put toys away when they are done with them.
Board games
This would be more for children who are a little older, but it's definitely an awesome way to bond and teach your kids to follow rules at the same time!
And here we go again with incorporating child training…this is really an awesome way to teach your kids how to celebrate each other's victories.  Peaceable Kingdom has my absolute favorite board games for families with younger kids. Your kids will have to strategize to win!
Draw/color together
Believe it or not, but my kids absolutely love when I sit down and color with them. I think it's the idea of me taking part in something they enjoy doing that excites them. Either way, my husband and I do this quite often with them, and even our toddler has become quite an artist!
My older daughters also love to go on YouTube and watch videos on how to draw different things. There is a particular channel called Art Hub for Kids that they really like, and it's really helped my daughter develop some serious drawing skills!
Exercise
Walks in the park, exercise videos, you name it. One day I came home and my hubby had my girls doing man push ups (smh). But they loved it, so what could I say?
Puzzles
Preeeeety straight forward, and again with the character training, teaching kids to think and teaching them patience is part of this activity.
Play in the mud
This is, without a doubt, the most influential activity ever for my second daughter, Anna. She can spend H.O.U.R.S making mud with water (which we take outside in a mop bucket), dirt (provided by our front yard), and sticks. She uses the sticks to soften the dirt and then just has at it! She'll make pretend cakes, cookies, soups, teas, etc.
I will forewarn you that this is definitely not the cleanest activity on the list, but I think that's part of why Anna loves it so much. She can use her gifting of creating and building and not have to worry about staying clean in the process!
Make an ice cream run
We don't do this very often, but let me tell you, there are definitely squeals of joy when we decide to make this a quality time activity.
Play outdoor games
Kids love to play tag, hopscotch, hide and seek, etc. But it takes the game up a level when we play with them!
Take them to the dollar store
My husband and I are definitely not ones to spoil our kids with excessive toys. I personally don't even really care for toys because I find that my children lose interest in them far too soon.
However, every now and then, and especially for a job of some sort that was well done, we'll take them to the dollar store down the street from us. Now granted, whatever they bought is most likely broken by the time we get home…but again, good training opportunity. Teaches them that they get what they pay for!
I hope this list has inspired you to fit more quality time into your day. Do you have others not on this list? Please share below, I'd love to hear them!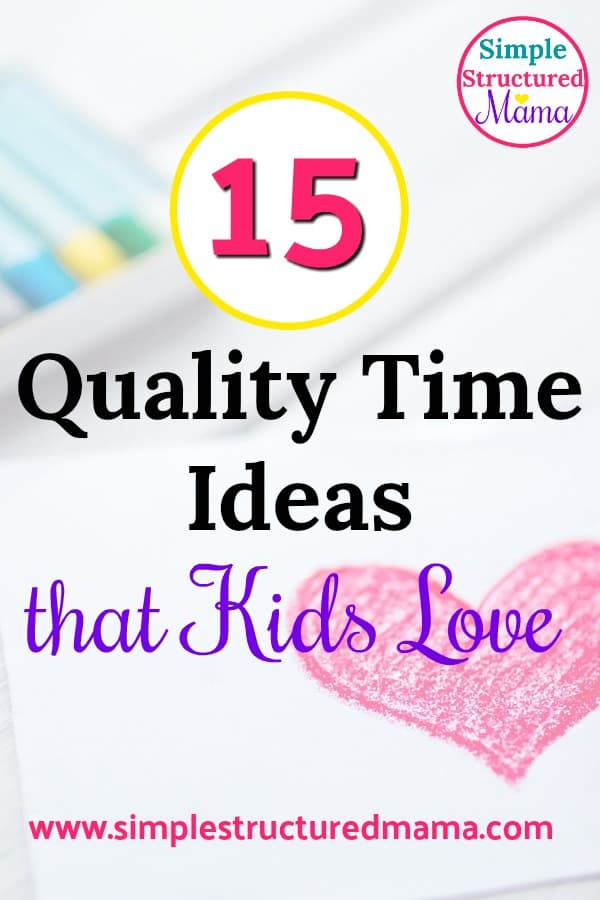 Related posts:
2 Ways to Strengthen Your Relationship with Your Kids